I love doing commissions, and would love to hear from you. Most of my commissions are charcoal or graphite pencil portraits drawn from photographs, but enquiries about other types of commissioned work are also welcome. Please contact me to get the process started and let me know which kind of work you are interested in (e.g., a portrait or something else).  
​​​​​​​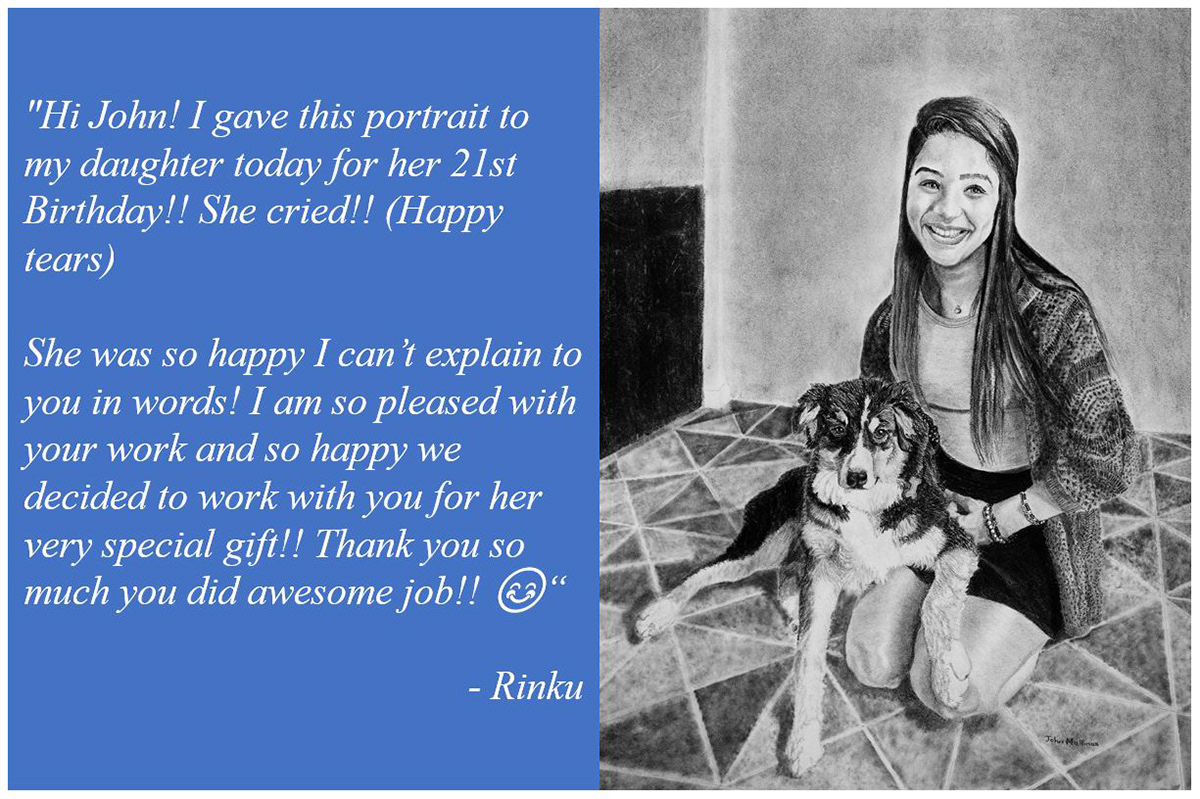 The Commission Process...
Commissioning a portrait from John Mullinax is a very simple three step process:
To initiate the process, please contact me through this website or my social media accounts.  See the
Contact
page for how to reach me. I will reply to your message so you can directly email me the desired reference photo. Getting a quote carries no obligation.  
If you're not sure which photo would be the best reference for a portrait, I'm happy to provide advice.  Additionally, I'm also available to make a special photo for you to use as a reference for the portrait if time and distance allows.  
My drawing process generally involves making multiple studies of the subject to ensure I capture both the likeness and the spirit of the subject (sitter). I may ask about the life, hopes, dreams, accomplishments, or aspirations of the subject. The more insight I have into the subject of the portrait, the more emotion I can imbue into the work. My goal is to create an heirloom quality fine art portrait that you LOVE as much as I love creating it for you.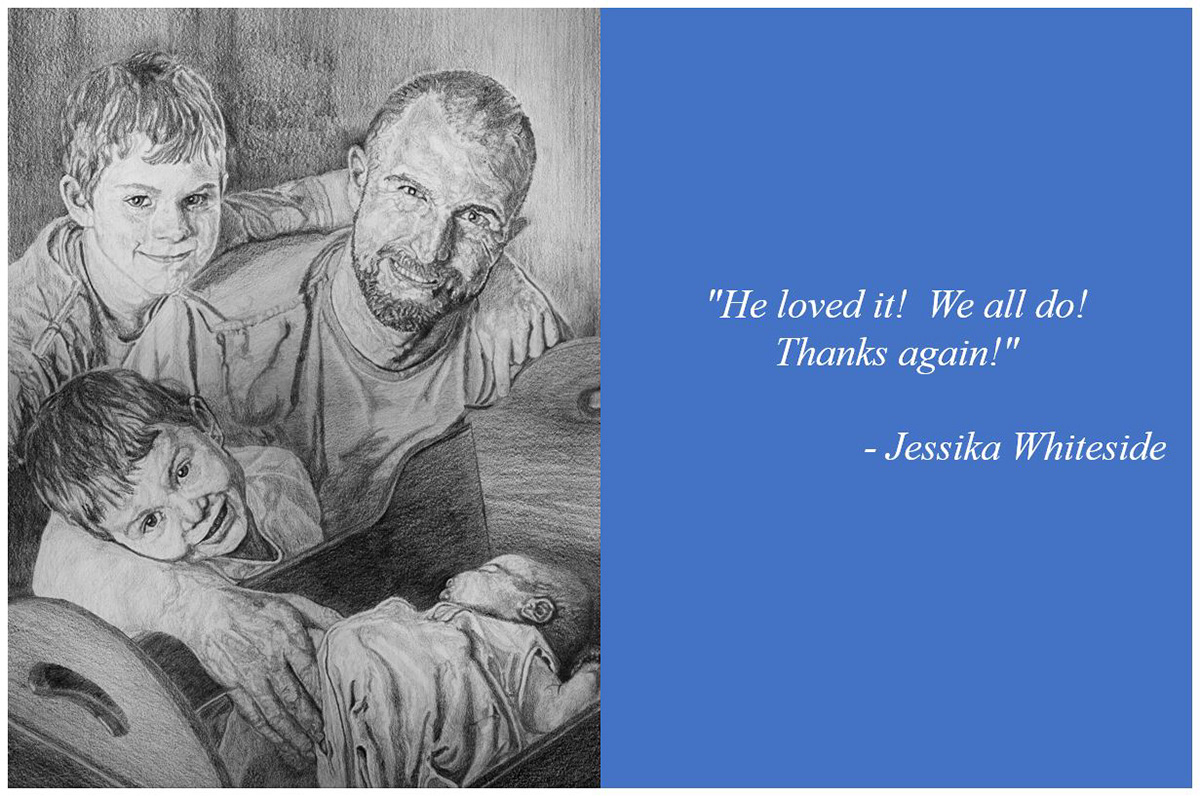 Frequently Asked Questions (FAQ)
Why do you draw portraits?
People often ask why I draw portraits when there are cameras available to make images of people. The answer may surprise you, and to explain I need to tell you something about my non-portrait artwork.  My non-portrait work is often conceptual and layered with meaning.  I want my work to stir emotions and thoughts in the viewer that inspire them to see things in new ways and act with new insight. In other words, non-portrait work is done with an eye on what it means and what it does.  Here's where people may be surprised:
I view portraits in exactly the same way.
  I love doing them because of what they mean, and what they do.   So what, exactly, does a portrait mean?  And what does it do?  
What a portrait means: One of the Highest Expressions of Love...  
To me, giving a portrait is one of the highest possible expressions of love. Not only does a portrait convey love when it is given and received, but the subject of a portrait feels loved every time they see their portrait.  More than that, a portrait continuously reminds the subject of their intrinsic worth.  When they see their portrait they know they are valued... it's existence is a statement that they

matter

. And because my portraits are heirloom quality works of fine art, they can keep spreading love for generations to come. 
What a portrait does: Connecting people to each other and their heritage...
Besides expressing love, the second most common reason to commission a portrait is to help people connect to each other and their heritage.  For example, a grandparent who lives far away from grandkids may send a portrait of themselves to their grandchildren so that they will see them and know them as they grow up, even though they may only rarely be together. Or, a parent may commission a portrait of their parent or grandparent to help their kids connect with a family member who is no longer with us.  
So, for me, portraits are about love and connection.... can there be anything more important in the world? 
Who commissions and gives portraits?
People who want to express their love and connect with their heritage, which is to say: all kinds of people give portraits.  Parents commission family portraits or portraits of kids for themselves or as gifts to grandparents. Grandparents commission portraits of grandkids to give to parents. Husbands and wives commission portraits for each other that show them with their children.  Children commission portraits of themselves or grandparents to give to their parents. 
When Do People Give Portraits? 
There is no wrong time to commission and give a portrait, of course, but there are some times that are busier than others.  For example, Mother's Day and Father's Day are very popular times for a spouse to commission a portrait of their partner with the kids as a gift.  Anniversaries are popular times to commission portraits based on old photos from the past.  Christmas is a popular time to commission portraits of kids to give as gifts to grandparents.  Valentine's Day is a popular time for people to commission a "couple portrait" as a gift for their partner.  
Because Mother's Day, Father's Day, and Christmas tend to be very widely celebrated, these holidays are when most of my portrait commissions are given.  
How long does a portrait take to complete? 
A general rule of thumb is about 10-18 hours of work per person, although it can be more or less.  Ultimately, the time required to complete a portrait is driven by how many people will be drawn, how much of each person will be drawn (the whole body? Just head and shoulders?, etc.), the type of background (grey gradient vs. highly detailed), and the complexity of the clothing and props (e.g, intricate lace requires more time than a plain tee shirt).  Of course, the size of the piece affects delivery times, as well.  Finally, the number of portrait commissions ahead of your commission order can also affect the delivery time.  A simple 8x10 portrait of a single person typically takes about 7 days.  More complex portrait commissions at busy times of year may require up to 8 weeks lead time, although 4-5 weeks is more common.  
How much does a portrait cost? 
Just as the size, number of people, and complexity of a portrait affects the lead time required to create your heirloom quality fine art portrait, these factors also impact the price of a portrait. For example, my charcoal and graphite portraits start at $100 for an 8x10 inches "head and shoulders" portrait of one person.  An 11x14 couple portrait could range from $200-350.  A simple head and shoulders portrait of two people, at 8x10 inch size, would typically be close to $200, while a portrait with detailed lace dress, intricate jewelry, and fully body poses in a recognizable location would be closer to $350.  These figures are just meant to give you a general idea... all actual price estimates are based off the specific photograph you would like me to use as a reference for your portrait.  Once you have a reference photograph identified, send it to me and I will be very happy to provide you a precise quote for price and delivery time.  Once we have a price quote for a specific reference photo, I only require a 50% deposit to make your portrait.  The balance is due when you are satisfied and the portrait is delivered.  Contact me here to get the process started. 
What exactly do I receive when I commission a portrait? 
You receive an heirloom quality fine art portrait drawn by my hand in charcoal or graphite on heavyweight, acid free fine art paper.  Each portrait comes with a Certificate of Authenticity certifying your portrait was drawn by me, as well as a guide on the proper care of your portrait so it will last for generations. Your portrait commission also includes: professional editing of your reference photo, the creation and archiving of a professional quality, ultra high resolution, color-corrected image suitable for making fine art prints (should you desire them), and a professional quality photo of your hand-drawn portrait sized for convenient sharing via email and on social media.  You will also receive as many periodic work-in-progress photos as you'd like to see (some people like to be surprised), and you have full access to me via email and social media for questions, comments, and direction during the portrait creation process.  Finally, each portrait commission includes free, insured shipping anywhere within the United States.  International shipping is also available, and charged at actual cost.  Prints, matting, and framing of your portrait are also available.  
What kind of photo makes a good reference for a portrait drawing? 
In general, the more detailed the photograph the better.  I will often zoom in to see and capture details in my portrait drawings that few would notice.  These details help ensure my portraits come to life in a way that not only captures the likeness of the subject, but captures emotion, as well. Phone pics are generally fine, so long as there is enough resolution to zoom in without the image getting blurry. 
In addition to using a high resolution image, photos that have high contrast without losing important details in all-white highlights or all black shadows tend to make good reference photos.  As a rule of thumb, if the photo looks good converted to black and white, there's a good chance it will render well as a charcoal or graphite portrait drawing. If you're not sure which photo to use, you are welcome to send me several and I will be happy to advise you on which photos are most likely to make the best references for a portrait drawing. To reach me, visit my Contact page. 
What if I don't have a photo that I want to use for the portrait reference?
No problem! In this case I would be happy to make a beautiful photograph for you that will work as an excellent portrait reference.  If time, distance, or schedules makes it impractical for me to personally create a reference photo for you portrait drawing, I would be happy to connect you with a photographer in your area who can make a wonderful portrait reference for you.  
What kind of guarantees do you offer on portraits?  
I guarantee you will love your portrait, and if you are not satisfied for any reason, I will keep working on it until you are.  I have never delivered a portrait to an unsatisfied client, and you will not be the first.  :) My business runs on referrals of people who love their portraits, so I rest assured that I will only deliver a portrait that you will love, too!